WELCOME TO ORGANIC GARDENING SOLUTIONS OF SAN DIEGO
PROVIDING ORGANIC GARDENING CONSULTATIONS, EQUIPMENT, PRODUCTS & SERVICES FOR SAN DIEGO AND BEYOND
WHY ORGANIC?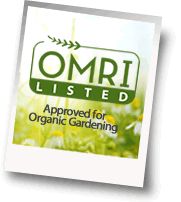 The benefits of going organic in your lawn and garden are vast!
In addition to helping improve the environment and decreasing the chances of accelerated disease in your family, going organic can provide mental and physical benefits, long-term money-savings, and increased vitamin and mineral content in your soil, among other things.
Benefits of Living Organic
The basic theory in organic gardening is that "nature knows best."
The organic gardener starts from the soil up, by feeding the soil, not the plant and creating a rebirth in the life and vitality of their lawn or garden. By rejecting the world of harmful chemical pesticides that put your plants and your family at risk, organic gardeners nurture the ground (and therefore all that springs above it) through techniques or systems that are found in nature. Those involved in the organic movement seek to live a cleaner, healthier existence and in a more earth-friendly way.
FEATURED PRODUCTS
Featured items hand picked by our top designer